"Be Still and Know." – William Garner Sutherland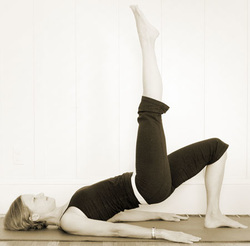 Since becoming a mother in 2008, my practice has focused more on working with other moms and, in particular, working with women who suffer from pelvic floor pain and dysfunctions. I understand what it's like to not feel in control of this essential part of our bodies and I feel it is very important for women and mothers to take the time to focus on themselves and their bodies, especially during pregnancy, after childbirth and as we get older.
Pelvic Floor Pilates brings our awareness to a vital part of our body that is often forgotten or ignored.
The pelvic floor is composed of a layer of muscles that support the pelvic organs and span the bottom of the pelvis. Pelvic floor imbalances and dysfunction can result in many things including hip and back pain, incontinence, pain with intercourse, myofascial pelvic pain and the dropping of the organs (organ prolapse).
This area of our body changes as we get older and is often affected by childbirth. It is essential to bring more awareness, strength and control, AS WELL AS relaxation to our pelvic floor. It's common for the pelvic floor to hold trauma and tension, and by doing Pilates and pelvic floor work you reconnect to this important area of your body. It is also beneficial for your sexual life, improving the quality of your sexual experience.
Pelvic floor work is essential to your overall health and well-being and brings you in touch with a part of your body that is often disregarded. The pelvic floor is truly the "core" of your body and by learning how to relax as well as strengthen it, you will connect to an inner strength you didn't know you had, bringing you a deeper level of awareness on a physical, emotional, and spiritual level.
Prenatal Pilates sessions are catered to your specific needs during your pregnancy.
In prenatal Pilates sessions, we focus on the pelvic floor as well as all the other areas of your body that need to be strengthened or released and are essential in keeping you feeling strong and connected to your body during pregnancy. Pilates will help you to stay comfortable and integrated in your body as you move through pregnancy and into childbirth.
Postpartum Pilates sessions focus on reconnecting with your body after pregnancy and childbirth. 
Whether you have had a c-section or vaginal birth, Pilates will help strengthen your pelvic floor and abdominal muscles as well as improve your overall body strength, bringing you back into your body in a safe and healthy way.
Mothers, I know it is difficult to find the time to focus on ourselves, especially after we have had a baby, and yet it's important to make taking care of ourselves a priority so we have the energy and strength we need to be the mothers we all want to be. Note: If you have a pre-crawling baby, you are welcome to bring your baby with you to your sessions. It's a private studio!